The Challenge
The original substrate needed to be replaced on a public library which was degrading, the challenge for this job however, was due to noise concerns, especially with it being a library where mechanical fixing was not a feasible solution.
The Solution
TREMproof Torch Fleece
is a 1.9mm thick, APP modified bitumen fibre back ventilated base sheet. TREMproof Torch Fleece is installed in multi-layer systems by either fully adhered, loose laid or mechanically fastened. TREMproof Torch Fleece has been designed to be used over thermal insulation, failed existing membranes and heat sensitive substrates.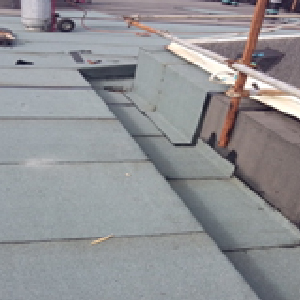 Tremco Solution
We started our solution by listening specifically to what the customer and applicator needed. Since mechanical fixing was not an option due to noise concerning the library roof, using Tremco bitumen contact adhesive was a clear advantage to glue down the fleece onto the original failing substrate (concrete).
Providing a quality solution and product is only 50% of the job, having the manufacturer involved from the start to the finish with QA from Priming, Fleece Installation and iAuditor reporting, gave the customer and the builder confidence in the product.
The Owner, Builder and Building Maintenance provider have all been very happy with the solution and end result.