About the Project
An iconic Sydney landmark, in need of a little attention. Completed in 1990 and refurbished in 2012, the Octagon in Parramatta is a six-level 20,000m
2
A-grade commercial building. It comprises two central cores connecting to modular office space across internal bridges within light filled atrium's. The interconnecting modular offices vary in size with over 2,000m
2
of ground floor commercial retail space enveloping the central communal courtyard.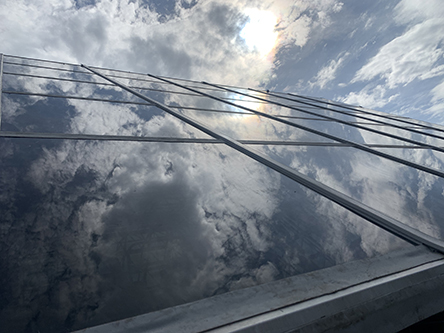 The Challenge
With over 800 individual panels in each of each of the two atrium's, this is a truly amazing structure. Over time and through regular wear and tear, the two major skylights over the atrium's had started leaking. Various attempts to repair the problem had been made but were unsuccessful. The challenge imposed by providing a remedial solution to a six storey glass atrium is most solutions require the removal of the panels which is not only expensive but also means potentially shutting down the atrium whilst the glass is remove which is not ideal when you can have up to 500 people working in each atrium at any one time.


Tremco Solution
Having had an existing relationship with the Engineer, The Engineer contacted Tremco to discuss the best solution for the job. Rather than pulling out each of the panels and adding new gaskets and sealant, Tremco came up with a double sealing solution by combining
Spectrem Simple Seal
with
Spectrem Remedial Overlays.
This solution is non-intrusive, doesn't require any panels to be removed or replaced, does not require a scissor lift and can be completed by accessing the externals of the building only. The second big benefit of this form of solution is cost. There is no need for any of the equipment associated with glass removal, installation can be a two person job saving on labour and time.
Tremco worked with the installer and training to ensure the building was maintained at the highest standard as demanded from the owner.


Tremco Supplied:
• Spectrem Remedial Overlay – 1250 lineal meters, supplied as 286 pre-cut lengths to ease installation.
• Spectrem Simple Seal – 39 rolls @ 30.5 metres each totaling 1189 lineal metres.
•
Spectrem 1
– 540 sausages @ 600ml each totaling 324 litres of sealant.