About the Project
The sporting history of Waverly Oval dates from the 1880s when the Waverley Cricket Club gained approval to construct a pitch. Football codes also began using the park at this time. In 1890, the oval was created, and in 1898 the Waverley District Baseball club was founded at the oval.
The first pavilion was built by the Waverley Cricket Club in the 1890s and Council built a second pavilion in 1908 with expanded facilities for the benefit of the cricketers and the public. This Pavilion was replaced in 1939 with an Inter War Functionalist style building.

In April 2012 the new Waverley Park Pavilion was named the Margaret Whitlam Recreation Centre, in honour of the long association the late Margaret Whitlam (AO) had with the Waverley area. The pavilion was chosen because of its civic, community and recreational facilities incorporating several important aspects of Margaret Whitlam's life.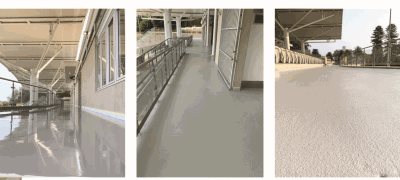 Problem
Remediation of the pedestrian areas of Margaret Whitlam Grandstand was completed 5 years ago but unfortunately was not successful due to product failure (not Tremco). Council contacted Tremco to provide an acceptable solution with the requirements that the new system needed to come with a 15 year warranty.
The challenge of this project was not the 15 year warranty period, but the need for a low odour solution due to the area being in a Public/Government venue. Not all membranes have Low VOC properties.
Solution
Tremco recommended Vulkem 350/951NF/951NF for the job, which is not only low odour but also offers a 15 year warranty period as required from the council. Tremco offering onsite support throughout the project gave the council confidence in our product.

Vulkem 350/951NF/951NF, is a composite waterproofing system comprised of tough-curing liquid polyurethane. It cures to form a durable rubber membrane surface that provides a lasting and easy-to-clean waterproof and trafficable coating. Textured surfaces for traffic will use an aggregate-laden top membrane to aid in wear and slip resistance.