Challenge
750m
2
roof with a large quantity of vents, airconditioning units and other equipment on the roof. Add to this problem damaged aging torch membrane, combined with Government regulations regarding solar absorption and reflectivity of the building posed a real challenge for the applicator when determining a solution for the job.
A second challenge for this job is the location of the building was located in the built up CBD of Parramatta with neighbours in close proximity, which meant the solution needed to be neighbourhood friendly.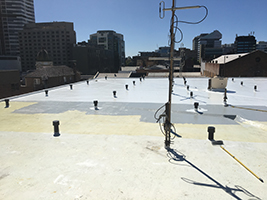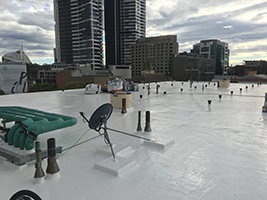 Solution
Given the complexity of solution required for such a job AlphaGuard BIO is the only product which ticks all the boxes.
AlphaGuard BIO
is an extremely high performing composite waterproofing system, designed with a focus on roofing restoration. Due to AlphaGuard BIO being a liquid, it makes it ideal for jobs where there are machinery on the roof which needs to be worked around.
AlphaGuard BIO has the ability to be installed over various existing roofing membranes in order to minimise tenant disruption and extend the life of the roof for an additional 20 years. It cures to form a durable rubber membrane surface that provides a lasting and easy-to clean waterproof coating. AlphaGuard BIO may be used to apply a seamless, monolithic waterproof membrane to concrete, primed metal, or existing roofing membrane surfaces.
AlphaGuard BIO's low VOC will minimise offensive odours to current tenants and applicators. The White top coat provides high solar reflectance, reducing the building's operation costs and complying with Section J1.3(b) of the 2019 NCC.