Challenge
Steep incline/decline residential vehicular ramp, requiring a P5 slip rating when finished. One of the major pre-requirements was easy maintenance of the ramp. The project also needed to be completed in a short time frame to align with the builder's project guidelines.
Solution
Vulkem 360NF/951NF/951NF is a modified polyurethane traffic deck coating system composed of a base coat (Vulkem 360NF), heavy duty intermediate coat (Vulkem 951NF) and a UV stable top coat (Vulkem 951NF). This unique waterproofing system is designed to have tenacious adhesion, extreme impact and abrasion resistance along with remarkable chemical stability.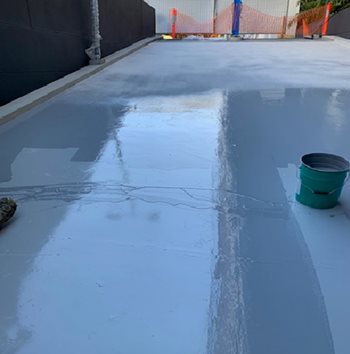 Tremco Solution
System used: Vulkem 171 Primer/Vulkem 360/Vulkem 951NF/Vulkem 951 NF/Vulkem 951 NF sanded to refusal.
To waterproof the ramp, we used a high performance flexible membrane with quick cure time Vulkem 360​, then provided a heavy duty durable top coat Vulkem 951​. To achieve a P5 slip rating when finished, 1mm sand thrown into the first layer of top coat done to refusal. Once the loose sand was blown and swept away, another 2 coats of Vulkem 951 encapsulated the remaining sand for an aesthetically looking vehicle ramp in slate grey.
Having a clear QA process with the manufacturer, contractor/builder provided a high level of confidence in the Tremco system solution combined with Tremco's onsite technical support helped secure the project with the builder.
Developer, Builder and Applicator were all happy with the end result both aesthetically and functionally.